Building on our superior keyboard wedge interface foundation, ID Innovations introduces a technologically advanced PS/2 to USB adaptor. Just as the introduction of our magnetic stripe reader in 1994, our new MultiMode USB Adaptor will set the standard by which all others will be measured. Our MultiMode USB Adaptor is optimized for the point-of-sale environment. This USB Adaptor will work with any legacy PS/2 keyboard device. Your data can be sent as USB-Keyboard, USB-Serial, or USB-HID. No other USB Adaptor on the market gives you the speed and flexibility of the ID Innovations MultiMode USB Adaptor.

Features
Keyboard Emulation
Advanced Keyboard Emulation (Windows version only)
USB-Serial COM port
USB-HID Format
Optimized for Point-of-Sale input devices delivering fast data throughput
Auto-Reconnect technology will restart the device if the host should stop communicating

Robust PS/2 keyboard input interface on USB adaptor works with ALL keyboard devices

Connect multiple keyboard wedge devices and a keyboard together into one USB adaptor

Program any ID Innovations PS/2 device through USB Adaptor using our Programming Software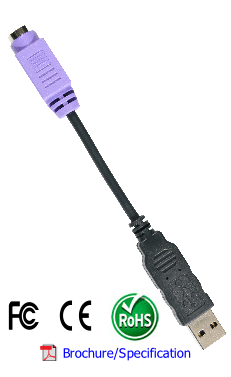 In conclusion:
Don't waste your money buying all new Point-Of-Sale keyboard peripherals because your current computer does not have a PS/2 port. Purchase an inexpensive, feature rich alternative, the ID Innovations MultiMode USB Adaptor. An adaptor unlike any other.