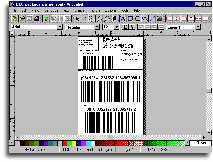 WYSIWYG label design package creates professional color and B/W labels with text, bar codes, shapes, and graphics. Includes 3500+ predefined label formats and supports standard bar code types. Imports and exports 21+ graphic formats and supports TWAIN scanners. Features include rulers, guides, zooms, rotation at any angle and multi-level undo. Fields can be constant, auto incremented, date and time stamp, prompt at print time, or imported. Data can be imported directly from any dBASE, Clipper, FoxPro, or ASCII database. Includes ready to use templates for AIAG, LOGMARS, AT&T, EIA, MH-10, KODAK, RAYTHEON, McDONNELL DOUGLAS and more. Bar code Symbologies supported include: PDF417, QR Code, Data Matrix, RSS/GS1 DataBar, Code 39, Full ASCII Code 39, HIBC Code 39, Code 128, UCC128/GS1-28 (SSCC-18 and SCC-14), HIBC Code 128 UPC-A, UPC-E Version 0, UPC-E Version 1, EAN-13, EAN-8, Bookland-EAN (Autohyphenates 77 countries), Interleaved 2 of 5, Industrial 2 of 5, Industrial 2 of 5 with two bar start/stop, Deutsche Frachtpost, Codabar, CLSI-Codabar, MSI/Plessey, MSI/Plessey-ISBN, Code 93, Code 11, Postnet, FIM, Intelligent Mail Operating Systems Supported: Windows 95/98/2000/XP/Me/Vista/7 64(32)bit/8 64(32)bit, Windows 10 64(32)bit


The demo version of AnyLabel is fully functional with the following limitations:1. Export files may not be saved.2. Only 20 labels may be printed per session.3. Only 4 labels may be printed per job.4. Cannot paste objects into other applications.
The programmers DLL lets you create programs that can run AnyLabel and instruct it to print labels and prompt the user without having to run an external program. This DLL provides a command interface where you can instruct AnyLabel to load a label file, select a printer, print labels, save the file and go on to the next. In addition, this DLL allows you to enhance the database reading capability of AnyLabel by instructing it to request records from your program rather than reading a database. A sample program is provided to demonstrate the technique of controlling AnyLabel and redirecting database requests.


Are you unable to locate a template that closely resembles the label that you need to design? Is a template not available for your application? If you are having problems with designing your label please let us help you. Send us the information/requirements for your label and we will help you design the label at no charge. Don't get frustrated or stressed when trying to design a label layout while you are under a time crunch. Let us help you!


Data Matrix Bar Codes are supported with full Error Correction and 30 distinct sizes with GS1-Data Matrix variants. Data Matrix Bar codes are used in many of the Military Standards and Standard Templates are provided implementing Mil 129 & Mil 130 specifications.
Support for the popular Mobile QR Code is provided for all standard versions 1 through 40. In addition to the Standard version QR Codes, AnyLabel supports Micro QR Codes M1 through M4 along with Standard GS1-QR Code variants. Full Error Correction levels L, M, Q and H are supported for all versions that allow it. With Auto Sizing and Best Fit algorithms you do not need to pick a specific Version QR Code only enter the data to encode.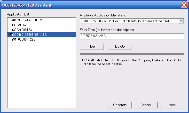 Many of the Bar code standards require the data for the bar codes be in a specific format. It is very had to keep track of these formatting requirements necessary to encode the data into the bar code. To help you with these issues AnyLabel provides Bar Code Assistants to coach you through the data formatting. Bar Code Assistants are available for: UCC128/GS1-128, GS1-DataMatrix, GS1-QR Code, GS1-DataBar, Intelligent Mail, UPC-A, UPC-E and Bookland-EAN.

There are many different Standards of Identification, Shipment and Storage of products for individual companies and the Department of Defense. AnyLabel supports many of these standards through the use of Templates. Templates in AnyLabel define the Text, Bar Codes, layout, dimensions and format of the data. When you use a Template, AnyLabel prompts you for the data for all of the fields on the label to get you started. Once you have entered the requested data you can then further customize the Template for your needs. Templates Support: MIL STD 130M, MIL STD 129P, GM 1724, Global Transport B16, MH10, UCC-GS1 Shipping, Bell Textron, EIA, McDonnel Douglas.
Ever had the need for a counting field on a label? Anylabel supports a very powerful Serial Number data type that can be applied to Text, Bar Code and Picture fields. The Serial Number can be up to 64 digits long and formatted in a wide variety of ways through the use of a Picture Mask. In addition to formatting the Serial Number the Picture Mask can be used to change the base of a serial number from Base 10 to Base 16 (Hexadecimal) or Base 8 (Octal). Ever had the need for a Serial Number to count to a specific value and then reset to start all over again? AnyLabel can handle this condition as well with the Rolling Serial Number type. Simply set the Threshold value (Number to count to) and then set the Reset Value and AnyLabel will count the uses and roll the value back to the beginning automatically.